MERCHANDISE ZUR SERIE
Gesellschafts - Brettspiel
In den USA ist in den 70ger Jahren ein Gesellschaftsspiel zur Serie erschienen. Ich selbst besitze es leider (noch!) nicht, habe aber 3 Fotos, um es euch etwas näherzubringen:
In the U.S. in the 70s, a board game has been released to production. I even own it, unfortunately (yet!) is not, but three photos to make it a little closer to you: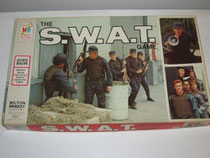 Herausgebracht wurde es von "MB - Spiele", die es ja auch bei uns gab, nur leider wurde dieses Spiel bei uns nie veröffentliht, was wohl daran lag, dass die Serie erst 1992 bei uns erstausgestrahlt wurde.
Brought out of it was "MB - Games" that there was indeed with us, but unfortunately this game was never veröffentliht with us, which was probably because the series was in 1992 aired with us.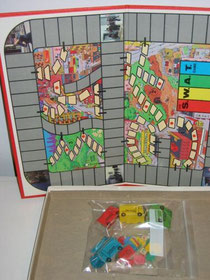 Von der Aufmachung her siehts schon sehr interessant aus. Es wurde bei eBay.com angeboten, für 35 US Dollar. Hätte gerne mitgeboten, doch leider versendete der Verkäufer nicht nach Deutschland, selbst auf meinen Hinweis meiner sehr vielen durchgehend positiven Bewertungen wollte er keine Ausnahme machen :(
The initial look very interesting from siehts. It was offered on eBay.com, for 35 U.S. dollars. Would like to bid on, but unfortunately the seller has not sent to Germany, even to my notice through my many positive reviews, he did not make an exception: (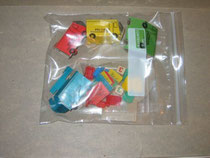 Ich hoffe, dass ich das Spiel irgendwann mal in Händen halten kann. Leider konnte ich auch keine Spielbeschreibung im Netz bislang finden. Sobald ich die gefunden habe, werde ich diese natürlich hier bekanntgeben.
I hope to play someday may have in your hands. Unfortunately I could not find any game description on the net so far. Once I found the one that I will announce them here.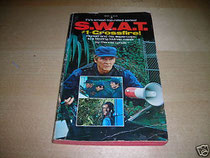 Romane zur Serie (Novels to the show)
In Deutschland gabs in den 70gern ja zuvielen Krimiserien Romane, z.B. Kojak, Quincy, 77 Sunset Strip, Columbo, Cannon, Detektiv Rockford, etc - doch zu dieser Swerie gabs keine! Was sicher auch daran lag, dass die Serie:
a) erst 1992 zuerst bei uns ausgestrahlt wurde
b) Die Serie "nur" 2 Staffeln hatte und man sich damals vermutlich eh kein abgebrochen hätte, Romane zu veröffentlichen.
In den USA ist zumindest eines, wovon ich weiß erschienen:
Der Titel lautet "Crossfire" und wurde von Dennis Lynds geschrieben. Darin geht es um eine Entführung eines hohen Beamten. Klingt dem Titel nach und nach der Beschreibung nach keiner verfilmten Story, sondern nach einer brandneuen Geschichte.
Da dieser Roman in Deutsch natürlich heute auch ne mehr veröffentlicht wird, bleibt nur der Griff zum englischen.
____________________________________________________________________________
In Germany was in the 70gern  too many detective series novels, such as Kojak, Quincy, 77 Sunset Strip, Columbo, Cannon, The Rockford Files, etc - but this Swerie There Were No! What it certainly was that the series:

a) was first aired in 1992 with us

b) The series was "only" two seasons and then you would have probably broken anyway not to publish novels.

In the United States is at least one of which I know appeared:

The title is "Crossfire" and was written by Dennis Lynds. It is about a kidnapping of a senior official. Sounds like the title to and following the description by any filmed story, but brand-new for a story.

Because this novel is in German, of course relased today ne more, only the handle is to the English.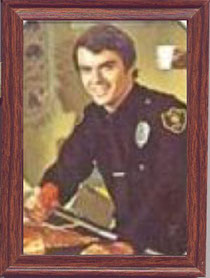 Tradingcards:
Zu der Serie gabs es auch Tradingcards (Sammelkarten) - wieviele es gab, weiß ich nicht - zumindest gab es VIER Karten, von jedem Cast-Mitglied je eine :)
Bei Bild 2 gehört links unten derjenige natürlich NICHT dazu, das ist Patrick Duffy von "Der Mann aus Atlantis" ;)
Released  about the series is also trading cards (TCG) - how many there were, I do not know - at least there were FOUR cards, depending on each cast a member  :)

In Picture 2 is the bottom left one, of course, NOT to this is Patrick Duffy of "The Man from Atlantis";)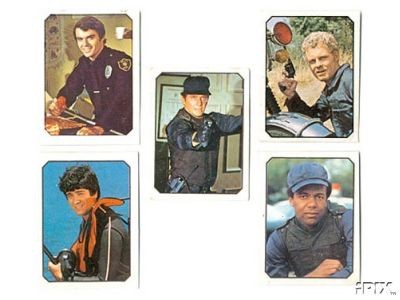 Drehkreisel
In Argentinien wurden in den 70gern zu der Serie von den Hauptcharakteren Spielzeug - Drehkreisel hergestellt.  Hier mal der von Robert Urich als Jim Street:
In Argentina, in the 70gern to the series of the main characters, toys - made spinning top. Here is the Robert Urich as Jim Street:
Puzzles:
In den USA sind in den 70ger Jahren auch Puzzle - Spiele zur Serie erschienen. Eines davon sah so aus. Bild 1 zeigt den Pappkarton und Bild 2 das fertige Puzzle
In the U.S. in the 70s are also puzzle - games were released for the series. One of them looked like this. Figure 1 shows the cardboard box and Figure 2, the finished puzzle
Lunchboxen (Brotdosen)
In den 70ger und 80ger Jahren waren in den USA besonders Lunchboxen sehr begehrt. In diesem Lunchboxen, worin Kinder ihre Schulbrote von den Eltern geschmiert aufgewahrten oder auch Erwachsene aus dem Bau oder fürs Büro. Aufgrund der Größe wurdfe auch Mittagessen darin aufbewahrt oder gar als Picknickkorb verwendet. Sie entspricht der uns bekannten "Brotdose", nur etwas größer. Solche Lunchboxen gab es damals von sehr vielen TV-Serien, Comic-Reihen, etc.. Auch von "Die knallharten Fünf" gab es mind. ein Motiv. Hier mal ein Bild der Box von den Seiten:
In the 70s and 80s were especially popular in the United States very lunchboxes. In this lunch boxes, in which children were wahrten bread smeared their school by parents or adults in the building or office. Due to the size and lunch wurdfe is stored or even used as a picnic basket. It corresponds to the known to us "lunch box", only slightly larger. These lunch boxes were there at that time by many TV series, comic series, etc.. Also from "SWAT" there were at least a motive. Here is a picture from the sides of the box:
ACTION FIGUREN (ACTION FIGURES)
Zu der Serie gab es von den Hauptcharakteren auch Actionfiguren. Hier präsentiere ich die von Robert Urichs Charakter Officer Jim Street:
To the series of the main characters, there was also action figures. Here I present the character of Robert Urichs Officer Jim Street:
Other Action figures of the Cast members